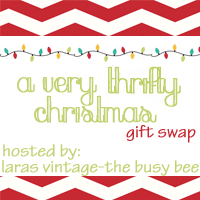 Today, I am happy to share with you my first super fun swap I just participated in!
Fellow mama blogger over at
Lara's Vintage
hosted this sweet, thrifty swap.
The only thing I had to do was sign up and wait to be assigned my partner. Easy as pie. The gifts were to be thrifted, So the search was one...yardsale, thrift stores, estate sales, and places of the like. The limit was $25, including shipping. I was given
Laura
for my partner
. I checked out her blog, and found her to be the most interesting and sweetest little college girl AND an avid thrifter.
I had a lot of fun searching for
special gifts
that she would adore. While I was doing this for her, she was out doing the same for me. Today my box arrived with great stuff for both myself and Logan.
I loved, loved, loved that she thought of Lo-- Logan loved that she thought of her too! She ripped right into her presents. Logan is very into little play things and dolls. So the little doll Laura picked out for her was p e r f e c t. The hair bands were as well. She put both of them to use immediately.
Another part of the gift both Logan AND Scott enjoyed was the little treats Laura sent. I loved the message she wrote on the bag. It made me laugh. If you can't see it, it says: "Don't worry, the candy is not second-hand. My Dad works @ Reese's." Haha
Laura also sent me a few pieces of jewelry. All of the pieces are stylish and in excellent shape. I love the earrings. I wear pearl earrings everyday, they are my favorite. So these were perfect!:]
Laura also sent me a very classic brown purse that is so cute and will go with a lot. I am very excited to use these items.
Thank you so much Laura. I was happy to be a part of this swap and glad to experience it with you! ALso, big thanks to Laura's Vintage for hosting! :] I hope that everyone enjoys their gifts as much as Lo and I enjoyed ours. Merry Christmas!