So I am doing my first [woot woot!] co-host with a lovely fellow mama blogger friend Nicole over at Me + the Moon.

Big thanks to all who will be joining in with us!
1. Follow your hosts.
They will be numbers 1 - 4 on the list.
**I try to always follow back, so
PLEASE leave a comment letting me know you're new here so I don't miss you! **
Sometimes it takes a little while, but I always get through every comment and follow back. :) My co-hosts this week are:
Sara
over at
Melon Pea
Shannon
over at
Imperfectly Perfect Grace
+
Shawna
over at
Doe Loves Buck
!
2. Link up your blog's main page
3. Try to stop by at least 3 blogs and follow ones you love.
I'm sure they'd love it if you left a comment, as well :)
4. Take a button!
Sharing is caring :) The more awesome blogs = the more awesome bloggy friends you make.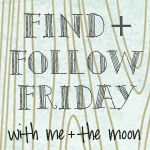 5. Tweet this hop!